Jamaica has long been known as the sprint kings and has even picked up its share of 800 m medals. However, coming into the Gold Coast 2018 Commonwealth Games, the island never won a medal in a long distance event at a major international meet. That is until Aisha Praught came along.
Praught made history for Jamaica on Wednesday as she won gold in the 3000 m steeplechase final, becoming the first Jamaican to win a long distance medal (3000 m or longer) ever. The 28-year-old Olympian recorded a time of 9:21:00 to take the event, holding off Kenyan junior champion, Celliphine Chespol (9:22:61), and the steeplechase champion at the 2014 Commonwealth Games, Purity Kirui (9:25:74).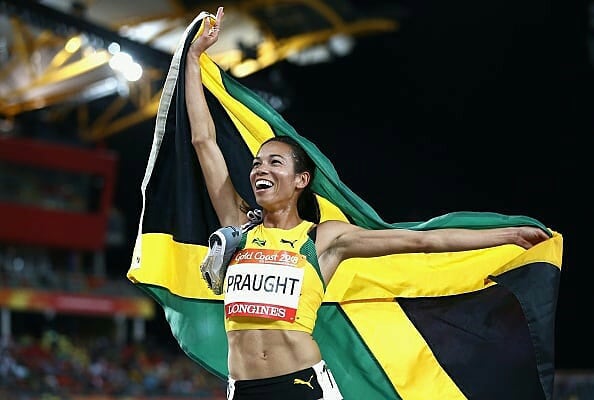 The Illinois-born Praught opted to represent the land of her biological father, reggae singer Joseph 'Blue' Grant, in 2013 after meeting him for the first time that year. She made it to the final of the 3000 m steeplechase at the Rio 2016 Olympic Games, where she finished 14th.
Meanwhile, Team Jamaica earned two more sprint medals on Wednesday as Anastasia Le-Roy and Stephenie-Ann Mcpherson earned silver and bronze medals in the women's 400 m.
The duo, who were a part of Jamaica's memorable women's 4 x 400 m gold medal-winning team at the 2015 world championships in Beijing, recorded times of 50.57 and 50.93 seconds respectively. Le-Roy's time, a personal best, wasn't quite enough to catch the winner, Botswana's Amantle Montsho, who won in 50.15 seconds.