For the fourth straight day, Team Jamaica has a gold medal to celebrate at the 2018 Commonwealth Games in Australia's Gold Coast. This, thanks to Janieve Russell, who soared to the top of the podium in the women's 400 m hurdles on Day 9 of the games on Thursday.
Russell, a world junior champion and Olympic finalist in the event, recorded a time of 54.33 seconds to take the race, joining Aisha Praught, Ronald Levy and Kimberly Williams as Jamaica's golden competitors so far. Last year's world championship bronze medallist in the event, Ristananna Tracey, surprisingly finished eighth in the race with a time of 57.50 seconds. Fellow Jamaican, Ronda Whyte, just missed out on joining Russell on the podium as she finished fourth in 55.02 seconds.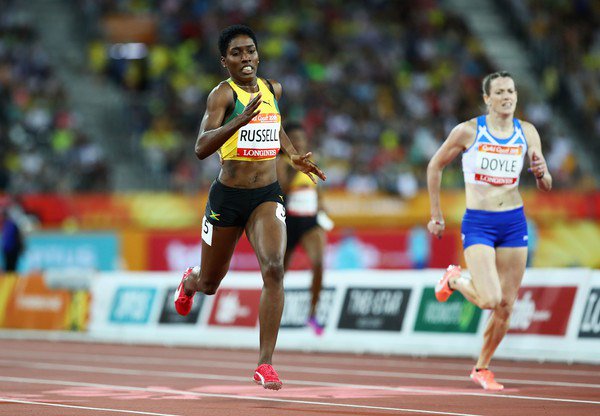 Meanwhile, the recent struggles of Elaine Thompson, the reigning Olympic 100 and 200 m champion, at major meets continued in the women's 200 m final. Thompson, who battled an Achilles injury and missed out a women's 100 m medal at last year's world championships, finished fourth in the women's 200 m final on Thursday. Her time of 22.30 seconds was clipped by England's Dina Asher-Smith, who finished in 22.29 seconds.
A Jamaican did reach the podium in that event, however, as Shericka Jackson recorded a personal best time of 22.18 seconds to capture silver while Bahamian Olympic champion, Shaunae Miller-Uibo, took gold with a time of 22.09 seconds. Jackson was awarded her medal by now retired sprint legend, Usain Bolt.
Sherika Jackson was presented with her #GC2018 Commonwealth Games silver medal by #ChiefSpeedOfficer @UsainBolt. 🥈😊 pic.twitter.com/NBrvXgTj55

— Digicel Jamaica (@DIGICELJamaica) April 12, 2018
In what's been a competition of firsts on many fronts for Jamaica, Jaheel Hyde added to that narrative by copping his first major international medal at senior level.
Hyde's big burst at the start paid dividends in the end as he captured bronze in the men's 400 m hurdles in 49.16 seconds. Kyron McMaster of the British Virgin Islands won the race in 48.25 seconds while Jeffrey Gibson of the Bahamas took silver in 49.10 seconds.
Warren Weir, Jamaica's lone representative in the men's 200 m final, struggled in his first major final since coming out of a short-lived retirement in 2017. Weir, an Olympic and world championship medallist in the event, finished seventh in Thursday's final, won in controversial circumstances by Trinidad and Tobago' Jereem Richards. Richards initially finished second, by was upgraded to top spot after Great Britain's Zharnel Hughes was disqualified after a clash of hands on the line with the Trinidadian.