Maia Chung is a name linked to several worldwide endeavours…and she is always in the category of excellent.
And so, the media rock star who began a visual art career (officially) in 2016 – received her first national award for painting from the Jamaica Cultural Development Commission (JCDC) on Sunday August 12, 2018 for her piece titled Phoneville.
It is her first award for painting. Which is not too shabby for someone entering the game so soon.
This has been a great year for the artist whose other work, Miss Jamaica Pain, is now on exhibition in the United States, at the Washington D.C. headquarters of the Inter-American Development Bank's (IDB).
Chung's work was selected in March 2018 to represent Jamaica as a part of the moving art installation titled Sidewalk of the Americas, developed by the IDB, to use art as means of catalysing change in problem areas…now facing Latin America and the Caribbean.
Miss Jamaica Pain was selected by the team which makes up what is known as IDB Art Collection.
The first exhibition of the piece was in Mendoza, Argentina, making Chung a nationally and internationally-exhibited artist.
"This is every artists' dream, including mine," Chung told 876.
On Sunday, 
Chung gathered with 69 other awardees to receive her award, presented at the Jamaica Conference Centre in downtown Kingston.
The award ceremony was the official launch of the exhibition of the awarded works as well as the launch of the solo exhibition of Master Pen and Ink artist, Patrick Kitson.
Both exhibit's will run simultaneously at the JCC. The exhibitions are free to the public.  The event lasts until 
August 31, 2018
.
Chung detailed to 876411.com what the meaning of the piece is. According to her, it is a comment on the negative impact of android technology cell phones in her native Jamaica.
"Instead of appearing to be used for edification and even investigation of things that can raise our quality of life…I have friends who have lost their careers because private recordings facilitated by these devices have been leaked to the public."
"As a journalist I remember being poignantly affected by a young kid killed for his phone…he resembled one of my sons."
"While I was doing this interview I asked my friend Nickelisha, what would you do if you left your cell. She said I DON'T EVER LEAVE MY PHONE…I really cannot do it!"
"When I asked her why….she didn't know." Chung said laughing.
"While I am not even vaguely saying that this is a Jamaican phenomenon…think about it…when you don't have data, your charger mash up, you leave it at home, it is stolen or lost, or you don't have the password to the WiFi, we see people become berserker in this mofo."
"Don't get me wrong, new wave technology in phones is great, but you guys who read this know exactly what I mean," she added with a smile.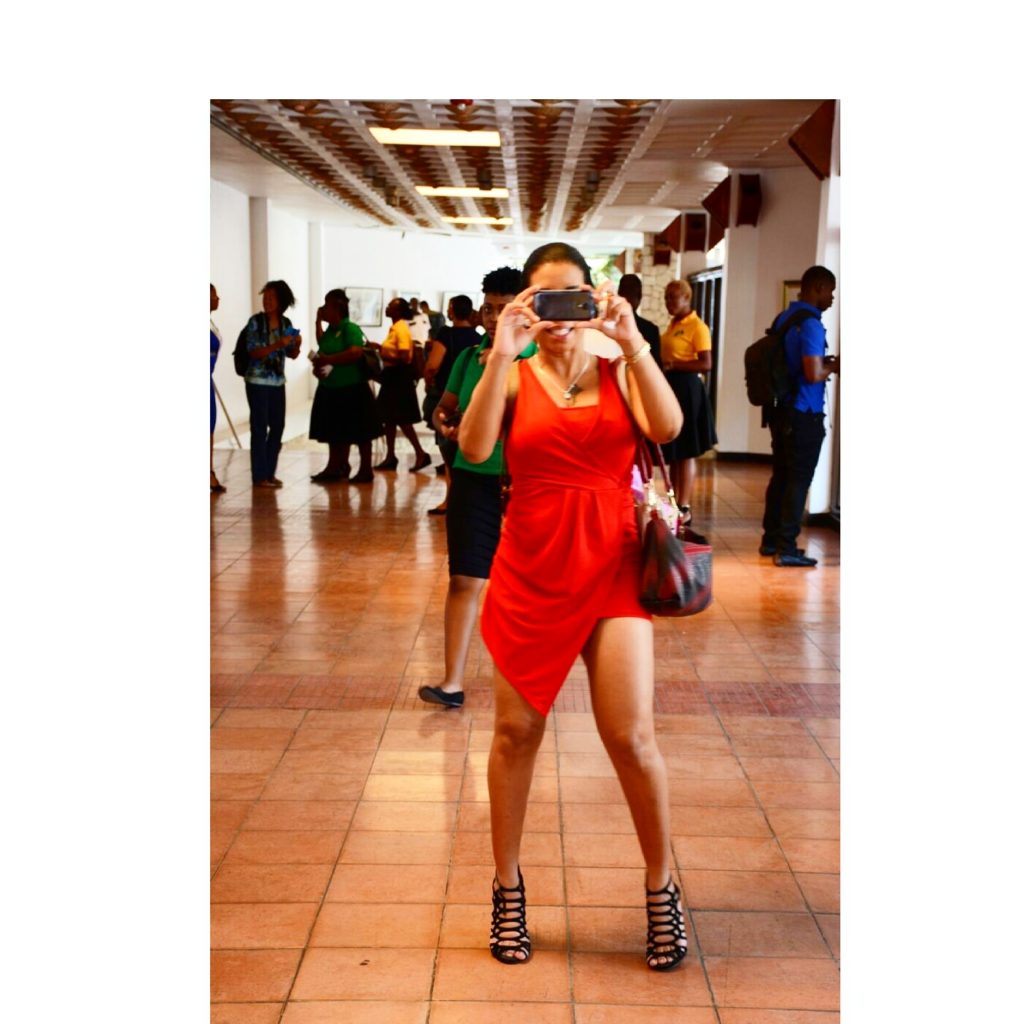 On a more serious note, she said it has affected interactions between Jamaicans in a way that seems to suck the life out of everything…at least for her.
"No one talks to me when we hit the streets, they are too busy on their phones," she said.
She was ecstatic at having Phoneville recognized at this level.
"Many of Jamaica's renowned visual artists have been recognized by the JCDC in their careers," she told us. "It is amazing to be included."
In 2017, when her work was submitted for the first time, she was awarded for photography and works on paper.
Maia indicated to 876 that once sold, the money from the Phoneville sale will go towards her foundation's new outreach; supporting cancer care facilities in Jamaica.
She is the long-standing founder of The Maia Chung Autism and Disabilities Foundation in Jamaica.
Last year Chung began her art company, Maia Chung Artworks, to pave the way for mass merchandising her art.