Veteran journalist Maia Chung is moving forward and continuing her legend-making path as a Jamaican journalist, this time at the Public Broadcasting Corporation of Jamaica PBCJ.
Since last year, the journalist has been expressing gratitude
after a near-tragic incident
when gunmen kidnapped her in St. Catherine and held her hostage across parishes for over two hours before letting her go at her church. After surviving that ordeal, Chung joined the PBCJamaica Television team and has been making great strides, as a team player who actually had stopped doing traditional journalism work for over ten years.
The Journalist dusted herself off after her near-death ride and decided that God had spared her life for many purposes, one of which she says was to retake her original employment strength: that of journalism and traditional media work, with a new twist, that of working with the government.
Until PBCJ, Ms. Chung has spent decades doing journalistic work in the private sector and finds the public sector work, which she has never done; challenging, exciting and fulfilling.
Charged with directing the news and current affairs of PBCJamaica TV, Chung can also be seen weekly on Fridays at 5 p.m. on the PBCJamaica's current affairs show, PBCJ PRESENTS talking with the movers and shakers of Jamaica and other countries on topics ranging from Global Tourism Resilience to diplomatic relations and other issues geared to yielding progress for the nation.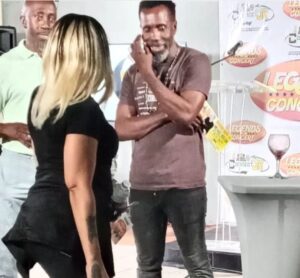 Her re-entry into traditional Journalism began in 2022, and had been planned previously in 2021, as Chung said that the Covid 19 pandemic's impact on her, her mental health, her nation and the globe, made her start to think about different ways to move forward as the world became 'new', after the onset of the deadly disease. Then the outbreak of war as Russia turned military force on Ukraine.
When 876-411 spoke with Chung over the weekend, she indicated that since getting her first journalism job at 17, from journalism stalwart Franklyn McKnight, she knows it is God's design, that the reporting and media platform she has been given, is for helping her fellow Jamaicans and the world.
https://www.youtube.com/watch?v=h80mbKLTxz8
Still at the helm of her non-profit, non-governmental The Maia Chung Autism and Disabilities Foundation (MCADF) for the past 15 years, she revealed that this year is one for retooling the organisation that has been serving the Jamaican Autism affected populace since it opened for operations in April 2008. Chung said MCADF have never stopped their work, even during COVID-19's onset.
Since the start of 2023 and her decision to do her journalism redo in the public sector, Chung has been welcomed back with open arms by her colleagues across mediums, during February 2023, the Jamaica Information Service (JIS) chose Chung as a feature journalist to profile, as the nation marked Journalism week, with several activities which ended in the first week of this month.
A thriving visual artist as well, Chung appeared on Nationwide News Network's Ezone earlier this year, on the completion of a six-month exhibition at the Jamaica Conference Centre (JCC) in 2022, of a set of her artworks used, with those of several other artists, chosen by the
Jamaica Cultural Development Commission (JCDC
) to help commemorate the 60th anniversary of Jamaica's independence.
It's going to get even greater she told 876-411, "just watch e wire".