876: Thanks for joining us, Queen! We've been following your journey as a cop-turned-beauty queen for some time. You're a Sergeant at the Jamaica Constabulary Force, where you've been for several years. What led you to decide to become a police officer to begin with?
Sasha: The main driving forces behind becoming a police officer were influences and personal background. My mom was in the military. I admire her so much and emulate the work she does and how disciplined she was in her career. I wanted to be just like her and when I was unable to join the military my next best option was to join the police force. This became somewhat clearer whilst I was in sixth form and attended a job fair at the Harman Barracks Facility; here my interest peaked by the presentation I got from the police officers. Later on, after completing sixth form, I encountered several police officers, who further encouraged me to join the Jamaica Constabulary Force.
876: Being a police officer can be a rewarding yet stressful job. What's the most enjoyable part of being a cop and what's the most difficult part?
Sasha: I like challenges and so, the most enjoyable aspect of policing for me is how diverse the work is. Having various tasks to do keeps it interesting and not monotonous. Whilst carrying out these tasks, I get to help and meet different people from various backgrounds whom I learn a lot from just by our interaction, no matter how short it is.
The most difficult part about being a police officer is how demanding and dangerous this career is. Each day you leave home you have to pray and hope to return to your family unharmed.
876: Do you see yourself being a lifer in the force or do you see yourself branching out and doing other things at some point?
Sasha: I usually set short-term career goals in hopes of achieving them so that I may not have the urge to leave just yet. I have been achieving these goals. So, until I am no longer achieving, then that's when I will be forced to think about other ventures.
876: You've been a familiar face on the pageant scene for a long time, from winning Miss Intercontinental Jamaica to competing in Miss Jamaica World and Miss Universe Jamaica. What about pageants made you want to participate in them?
Sasha: The first time I ever entered a pageant was when I was in Grade 4. This idea was not even mine, it was my teacher's idea. Fast forward several years later, I was again approached and influenced by a member of the Miss Jamaica World Organization at the time to enter. At first, I was skeptical and doubted myself. Nevertheless, I gave it a try.
After experiencing Miss Jamaica World and how much I have learnt and achieved, plus [learning from] the defeat. It's like, it fueled me to want more and that's what powered me to give other pageants a try. I also knew that through this platform, I was able to inspire youths and give back to my little community in more ways than one that I never saw possible before. Through the pageant, I launched The Sasha Henry Foundation. I was able to build a house for a family of 7. I have done back-to-school treats and medicals for students and the elderly, among many other outreach initiatives. Pageantry gave me that push.
876: Much like the second question, what's the best part about competing in pageants? And, what was your biggest challenge or struggle with pageants?
Sasha: Best parts? Showcasing my talent, confidence, and personality on stage, as well as fostering personal growth and building lifelong friendships.
The biggest challenges are navigating intense competition, managing stress, and countering the stereotypes associated with pageantry.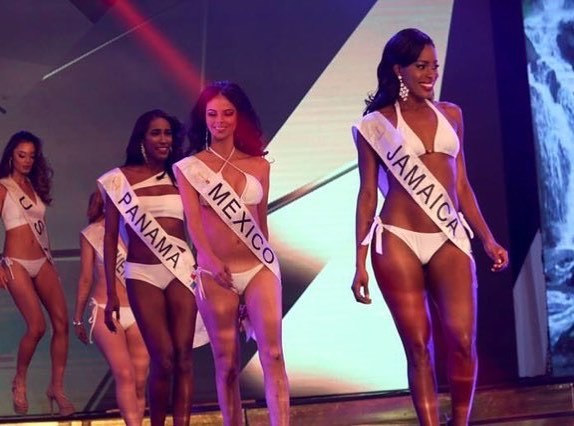 876: As an 876 Beauty and beauty queen who captivates so many, how do you keep yourself looking so good? What's your secret?
Sasha: Maintaining my appearance involves a balanced routine of skin care, exercise, healthy eating, and positive self-care. Consistency, inner confidence, and embracing my uniqueness are my beauty secrets that are not so much of a secret (laughs).
876: What do you consider your most attractive physical attribute? And, what's your most attractive non-physical attribute?
Sasha: Physically, I value my smile. Non-physically, my humor, empathy and ability to connect with others on a deeper level are attributes I find most attractive.
876: Being that you're an officer and a pageant regular, plus have your Queen Cop channel and the Sasha Henry clothing brand, you're often in the spotlight. Does that spotlight ever intimidate you or does it simply come naturally?
Sasha: While the spotlight can be intimidating at times, my diverse experiences have honed my confidence. It's a mix of natural comfort and continuous growth that allows me to embrace and thrive in various roles.
876: You've also ventured into the music world with your first single, "Style," which is a vibe for us. What led you to try music? What's the reception to the song been like? And, are there any follow-up songs to come?
Sasha: Exploring music was a creative urge, and "Style" allowed me to express myself differently. The song's reception has been incredible, resonating with listeners.
Yes, more songs are in the pipeline, reflecting different facets of my artistry and I am excited and eager to share with everyone.
876: What is one interesting fact about you that people may not know?
Sasha: Behind the scenes, I really like being alone, just at home sleeping or binge-watching a series on Netflix.
876: What can we look forward to seeing the Queen Cop in the near future? And how can people follow your progress on social media?
Sasha: Expect more empowering content on my Queen Cop channel, touching on various aspects of life and leadership, more collaboration, music and more successes in my career as a police officer.
Follow my journey on social media platforms like Instagram, Twitter @sashi_henry Facebook @sashahenry TikTok @Queencopofficial and Youtube @queencop for updates, insights, and inspiring moments.